Virtual fair:


The platform solution for


for successful events
Make your trade fair accessible from anywhere and at any time. newroom connect makes it easy for you to create your own virtual trade fair or set up a digital twin of an existing trade fair.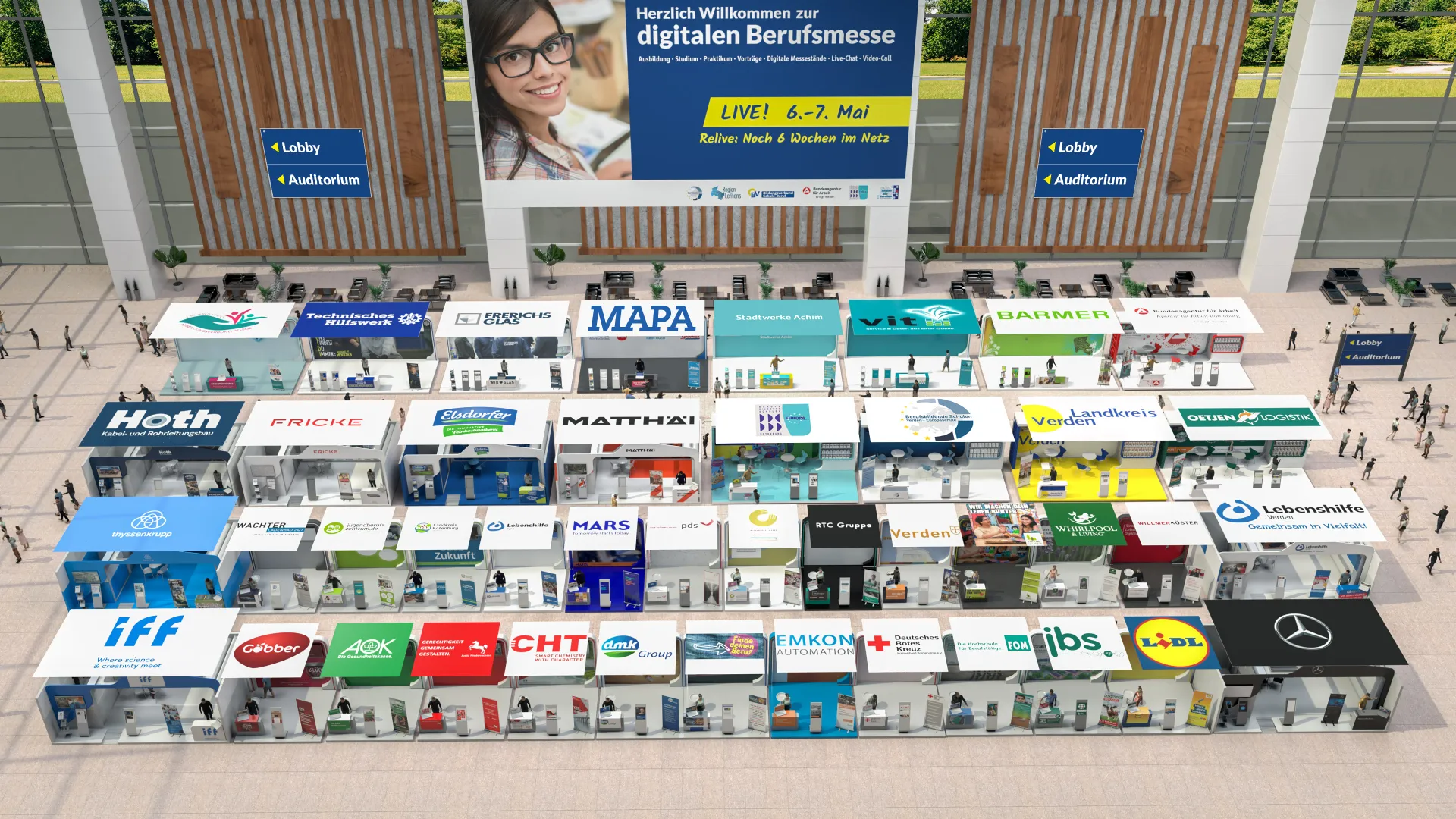 A virtual trade fair is distinguished from a conventional trade fair by many digital features and is in no way inferior to it. Visitors have the opportunity to move freely around the virtual exhibition center, visit booths and exchange information. The most important benefits of a virtual fair are:
Location & time independence
Easy & fast content updating
Data measurability and reporting
Cost savings
Scalability
Sustainable event
Bring your trade show into the
virtual age
Like a physical trade fair, a digitized trade fair also needs different areas for the spatial separation of certain areas. With newroom connect you can create a variety of areas to implement the rooms you need.
When do I need a
virtual fair

?
Any enterprise can benefit from a virtual trade show, but some application areas can particularly gain from the use of newroom connect. Here are some criteria to consider when you're thinking about hosting a virtual trade show:
Where is a virtual trade fair particularly suitable?
If you want global accessibility to visitors with little effort
For products and booths with a high complexity
When a high level of visitor safety or health protection is required (e.g., due to Covid-19).
If the logistical effort of the trade fair should be reduced
When space is limited or not available for a physical trade fair
With a brand image that addresses innovation and technology
If a flexible visit over a long period of time is to be enabled
Online services
Digital products
Virtual reality
Saas solutions
3D models and prototypes
Digital art
Online stores and e-commerce
Our virtual bike store allows you to experience the functions of newroom connect up close. Take a look around, click on content, and see for yourself the features and interactive buying process.
How does a
virtual fair

work?
The implementation of a virtual trade fair brings many advantages. But how does it work with newroom connect and what requirements have to be met? Here's a simple 3-step roadmap you can use to incorporate newroom connect into your business:
Plan your virtual trade fair
Before actually implementing a virtual trade show, some groundwork needs to be laid to effectively execute the plan. Create a concept that answers the following questions:
What areas should the trade fair have?
What content is to be displayed?
Do you need to create 3D models?
Do you already have a room that needs to be replicated or will you be creating a new room?
What colors and materials should be used?
If you feel overwhelmed by such questions or want to hand over the conceptualization, our team will be happy to help you.
Create your virtual trade fair
Now it's time to get down to business. Use the Area tool to create your trade show areas such as the lobby, exhibit hall, auditorium, booths and networking areas. Fill your rooms with your content using interactive widgets that allow you to:
Integrate videos, images and livestreams
View and download PDFs and other file formats
Choose between different templates for your exhibition stands
Create environments from real rooms or non-existing ones to create a coherent image
Let your guests join your show by invitation, code or login
Evaluate the success of your virtual trade show with the integrated reporting tool. Analyze the performance of each booth and the interactions of your visitors. Gain insight into what content was viewed, how often, for how long, and by whom.
With the roles and rights manager, you have the option to restrict access to certain areas and, for example, only grant access after a payment or by invitation. Customize this according to your specific use case.
newroom connect is a product from Germany and your entire project will be encrypted in this country. This protects your data from unauthorized access.
The top features of our
virtual trade fairs
newroom connect has a multitude of features for all kinds of use cases, such as virtual showrooms, virtual trade fairs or a virtual e-learning platform. The most impostant features of your virtual trade show are:
Use our various widgets to offer your visitors the best possible interaction and increase your conversions.
With newroom connect you can easily divide different areas into areas and thus separate them thematically.
You already use different tools in marketing or sales? We are happy to help you integrate newroom connect.
Thanks to third-party tools and our integrated reports, you can easily measure and evaluate the success of your trade show digitally.
Decide who gets to visit your virtual trade show. Use a registration, user lists or a public link for this.
Present all information and media to visitors of your online event in any language, for an accessible experience. (max. 6)
The advantages of a
virtual trade fair
With the repoting tools of newroom connect you keep track of how your online trade fair is used and can optimize it continuously and data-based.
An online trade fair provides worldwide access for exhibitors and visitors. Thus, you increase your reach and can expand your target audience.
With a 360° environment and the versatile widgets of newroom connect, you enable your visitors to interact in a realistic and interactive way.
Save with a virtual trade fair costs for the rent of a hall and other expenses. Create an unlimited sized custom trade show with just one software.
Location & time independent
Make your virtual booths accessible at any time and from anywhere, without huge rental & electricity costs. Determine when and from where.
A digital event can save valuable resources. For example, by eliminating the need for visitors to travel, as well as electricity costs.
The
sustainable

& virtual trade fair stand
Sustainable exhibition stand
With newroom connect, it is easy to create sustainable exhibition stands that can be operated around the clock due to their low emissions and costs. An interactive booth also increases the reach of your project to a global level. Of course, with newroom connect you can also place several booths on different topics in one room to further improve the knowledge transfer. Learn more in our dedicated article.
Virtual trade fair software
Discover the future of virtual trade fairs
Our virtual trade fair software allows you to digitize your own trade fair. Your visitors can access your show from anywhere and your exhibitors can dynamically adjust their booths at any time. Experience all the benefits of virtual trade show software:
Advanced functions for virtual trade fair stands
Interactive product presentations and demos in real time
Chat function for direct communication with exhibitors and visitors
Virtual networking opportunities for valuable contacts
Individual scheduling and agenda management
Live webinars and presentations from industry experts
Integration of videos, brochures and other media content
The cost of a virtual trade fair depends on various factors. For example, the cost is based on the size of the exhibition or the required areas, as well as the required range of functions, and the custom implementation of external tools and external code. With newroom connect, we offer the right pricing model for every project:
Test and find optimal plan
Test 30 days free of charge
For small to medium projects
129€

with monthly payment
For medium to large projects
899€

with monthly payment
Professional features plus
Virtual trade fair

examples
Each virtual trade fair requires an individual design and specially selected widgets to address your target group in the best possible way. Countless virtual measurements have already been implemented with newroom connect. Here are some virtual trade show examples:
Frequently asked questions
The implementation time varies greatly depends on the size of your project and the individualization or setup of the virtual trade show. The newroom connect platform, however, can be set up very quickly. We are happy to help you with planning, implementation or media creation.
The number of visitors is limited by the respective subscription. If you want unlimited users, then the Enterprise package is perfect for you.
No. Your virtual trade fair runs on the newroom connect platform, which is hosted in Germany and managed by us. This allows us to ensure an optimal, safe and fast experience of your event.
Let's talk about your individual use case and work out the perfect solution for your business.
Test newroom connect free of charge for 30 days and convince yourself of the many benefits to you and your business.
Can't wait to get started, have questions or want an individual consultation?
Then we look forward to hearing from you!